Industrial control systems compliance owners find project success with Industrial Defender ASM
Leverage ready-to-go NERC CIP, NIST and NEI 08-09 policy libraries along with the Work Automation Suite to automate the collection, storage and reporting of compliance artifacts for audit requirements.
Effectively meet requirements for compliance programs. As new asset configuration changes and compliance events are detected Compliance managers can use the customizable ASM 6.1 dashboards to monitor continuous compliance. Dashboards help to visualize compliance by key metrics such as deviations from asset configuration baselines, security events to be reviewed and new assets to baseline.
The ASM 6.1 dashboard tiles display real-time asset configuration changes and event monitoring such as authentication events. Charts and graphs provide a range of critical data including reachability and distribution by varying criteria, aggregation of deviations or exceptions of events across your environment, configuration baseline graphs waiting to be promoted and authentication events that track failed login attempts in your ICS environment.
Use Case
Charlotte is the point person for compliance monitoring and reporting for a U.S. IOU. She is using the ASM daily to track any assets with configuration changes. The tile displays the number of assets that have deviations or exceptions from the baseline. From the tile she can drill down to the ASM Asset Management application to view the assets with exceptions. With another click she can drill down further to view the details of each asset's exceptions including the baseline value and the change.
When Charlotte sees that there are asset configuration exceptions the detailed view tells her what types of exceptions have popped up. She can then either spot check a few and accept the exceptions to make them part of the new baseline or she can reject the exceptions and follow up with the asset owner to clarify why these changes are necessary.
Demo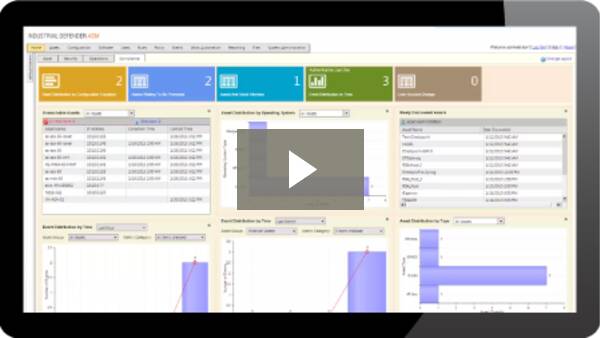 ---
Find out how Industrial Defender ASM 6.1 will help with your compliance projects?